How to download and install Windows 11 right now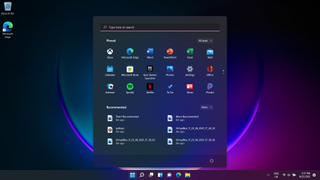 Finding and using a Windows 11 download has never been easier thanks to our guide that will help you install the newest operating system. While Windows 11 may not be "new" per se, it's still Microsoft's most recent and up-to-date operating system with a lot of useful features worth checking out, so now may be the best time to upgrade your operating system to Windows 11.
Windows 11 has great features, including things like a refreshed Start menu and Widgets. The design has been upgraded to be more fluent and seamless, plus the newest operating system has a big focus on gaming, which is great for PC gamers. More than anything, a Windows 11 download will give you all the most recent updates to make the operating system run as smoothly as possible.
It will be easy to snag a Windows 11 download if you're already running the Windows 7 operating system or anything newer because Windows 11 is available as a free download in that case. You won't have to worry about tracking down a pirated version of the software that might not work properly or be incomplete overall.
Windows 11 Minimum system requirements
Processor: 1 gigahertz (GHz) or faster with at least two cores on a compatible 64-bit processor or SoC
RAM: 4GB
Storage: 64GB
System Firmware: UEFI, Secure Boot capable
TPM: Trusted Platform Module 2.0
Graphics Card: DirectX 12 or later with WDDM 2.0 driver
Display: 720p, 8-bit per color channel, at least 9-inch diagonal
Internet Connection and Microsoft Account: Windows 11 Home requires an active internet connection and a Microsoft Account to complete initial, first-use setup of the operating system, or when switching a device out of Windows 11 Home in S-mode.
How to download Windows 11
Update your device
Install using a DVD or USB
Perform a clean ISO install
TOOLS AND REQUIREMENTS
● System: Windows 11
● Tools: Keyboard and mouse
● Skill Level: Beginner
---
1. Upgrade the device you're on
Before you begin, make sure your PC meets the Windows 11 minimum specifications listed above. If it does, you should then back up your PC before continuing.
This ensures that if anything goes wrong – and updating to a new operating system is full of risks – your important files and settings can at least be restored.
The easiest way to download and install Windows 11 is to upgrade the device you're currently using. Head over to Microsoft's Download Windows 11 webpage (opens in new tab) and click Download Now.
Then, follow the instructions to download and install Windows 11 on your device.
2. Install Windows 11 on another PC using a DVD or USB
If you want to install Windows 11 on another PC, then select Download now underneath the 'Create Windows 11 Installation Media' section.
This will download a tool that will format a USB drive and install a bootable version of the Windows 11 installation media. This can also be done with a blank DVD.
You'll need a USB drive with at least 8GB of storage. Make sure there are no important files on it, as it will erase anything on there. Check out our pick of the best USB drives if you need to buy one.
Follow the steps in the Media Creation Tool to create the bootable USB or DVD. Once done, insert it in the PC you want to install Windows 11 on, and then restart the device.
You may need to get the PC to boot from the USB or DVD you've inserted. To do this, when your manufacturer logo comes on the screen, press F12 or F2 (this varies by manufacturer) to jump into the boot menu. This is where you'll tell the computer to go ahead and boot from your install disk, rather than loading Windows as it normally does.
When the boot menu pops up, simply select whether you'd like to boot from USB or DVD, then hit enter. From here, the Windows 11 installer should load up, and you'll be well on your way to that fresh install.
3. Perform a clean install of Windows 11 using an ISO
The above steps upgrade your Windows 10 PC to Windows 11. However, if you want to install Windows 11 from scratch, you can download the Windows 11 ISO(opens in new tab).
Under Select edition pick Windows 11. Once the ISO is downloaded, you'll need to make a bootable USB or DVD with it.
Follow our how to download Windows 11 ISO for a clean install guide for more information.
Final thoughts: How to upgrade to Windows 11 without TPM 2.0
Many people have found that they cannot install Windows 11 because their PC does not have TPM 2.0. This is a physical chip included in many modern PCs (or built into their processors) which is a "secure crypto-processor" that is designed to make your device more secure by preventing malicious software to be run.
If your PC doesn't support TPM 2.0, then you'll get an error message when trying to install it that says your PC doesn't meet Windows 11 system requirements.
If this happens and you still want to install Windows 11, there is a way to get around the TPM requirement, but this should only be done by people who are confident about the risks it involves.
How to download and install Windows 11 right now
How to download and install Windows 11 right now
How to download and install Windows 11 right now
How to download and install Windows 11 right now
How to download and install Windows 11 right now
How to download and install Windows 11 right now
How to download and install Windows 11 right now
How to download and install Windows 11 right now
How to download and install Windows 11 right now